Meet Your Optometrists – The Graham Hill Eyecare team comprises experienced optometrists, skilled in-house optical technician and friendly optical assistants and professional receptionists who keep everything running like clockwork.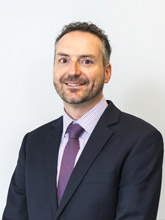 B OPTOM, THERAPEUTICALLY ENDORSED (ORBA)
After graduating from the University of Melbourne in 1996, Mark joined the Graham Hill Eyecare team in 1997. In addition to his optometry degree, Mark also completed a Postgraduate Certificate in Ocular Therapy in 2004 as well as a Graduate Certificate in Business Administration in 2005. He is the only eyecare practitioner in the Goulburn Valley approved by CASA to administer pilot's vision assessments.
Dedicated to the local area, Mark further enhanced his understanding of the local community by completing the Fairley Leadership Program in 2007. He is also currently serving on the board of the Greater Shepparton Foundation as well as the regional advisory board of Shepparton La Trobe University.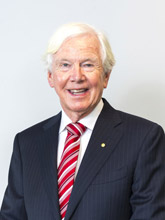 Since graduating from the University of Melbourne in 1964, Graham has had a busy optometry career. In addition to building his highly successful eyecare practice, Graham is constantly involved in optometric affairs. He has been Chairman of the Optometrists Registration Board, on the State and National Executive Councils, and also served as President of the Australian College of Optometry for ten years.
During this time, he was also a senior teaching clinician at the University of Melbourne. Graham's commitment to the industry has awarded him an OAM for his professional and community services, as well as the Ivor J Lewis Medal for outstanding services to optometry.
He was also awarded life membership to the Australian College of Optometry for his services to the college and a hall of fame award to the Shepparton Chamber of Commerce. Graham continues to maintain an unwavering enthusiasm and commitment to delivering service and advancing the profession.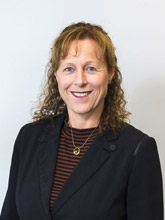 B SC (OPTOM), THERAPEUTICALLY ENDORSED (ORBA), FACO
Jenni graduated from the University of Melbourne in 1991 and in 2003 completed the Postgraduate Certificate in Ocular Therapeutics. She holds a special interest in complex contact lens fittings including orthokeratology and keratoconus management and has completed additional studies in this field.
Through her contact lens specialty, Jenni became a fellow of the Victorian College of Optometry in 1992.  Heavily involved in the community, Jenni has been involved in many local organisations and was instrumental in establishing the Optometry Clinic at the Rumbalara Aboriginal Medical Centre.
B OPTOM, THERAPEUTICALLY ENDORSED (ORBA)
Sao commenced her optometry career in 2009 after graduating from the University of Melbourne. She enjoys all aspects of optometry, with patient care and satisfaction being her highest priorities. She is trained in orthokeratology and complicated contact lens fittings and also has a keen interest in myopia control and children's vision.
When she's not at work, Sao participates in many running events and triathlons throughout the year and also volunteers as a guide for vision-impaired runners.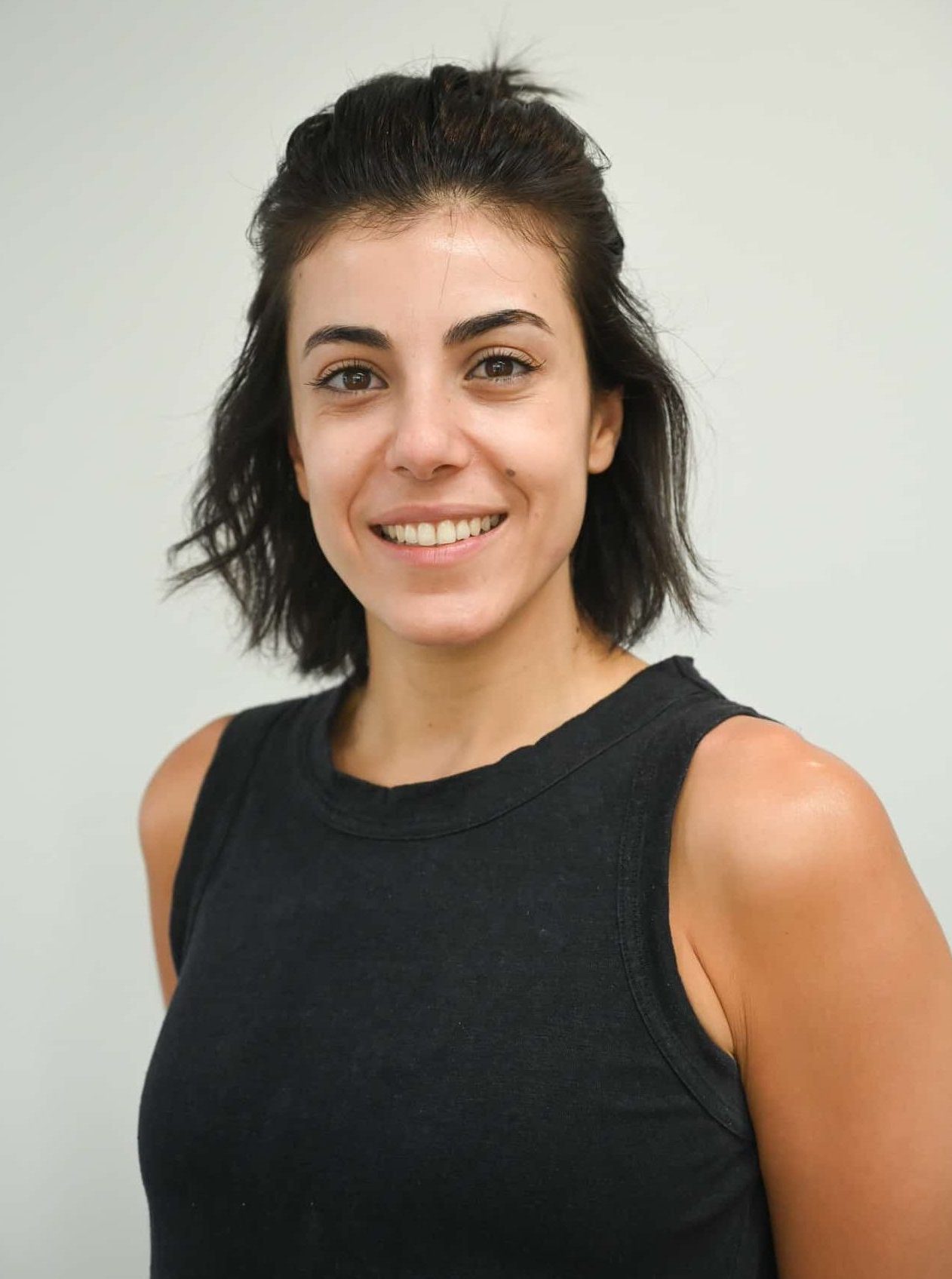 Joining our practice in 2021, Laura has already made her mark as a passionate and caring optometrist with a warm approach and great attention to detail.  Laura graduated from the University of Melbourne Doctorate of Optometry programme in 2020 and has been consulting as an optometrist in regional Victoria ever since.
Laura enjoys the relaxed lifestyle that Shepparton offers and likes to keep active.  Laura has an interest in all areas of optometry and enjoys helping all members of the community to get the most out of their eyesight.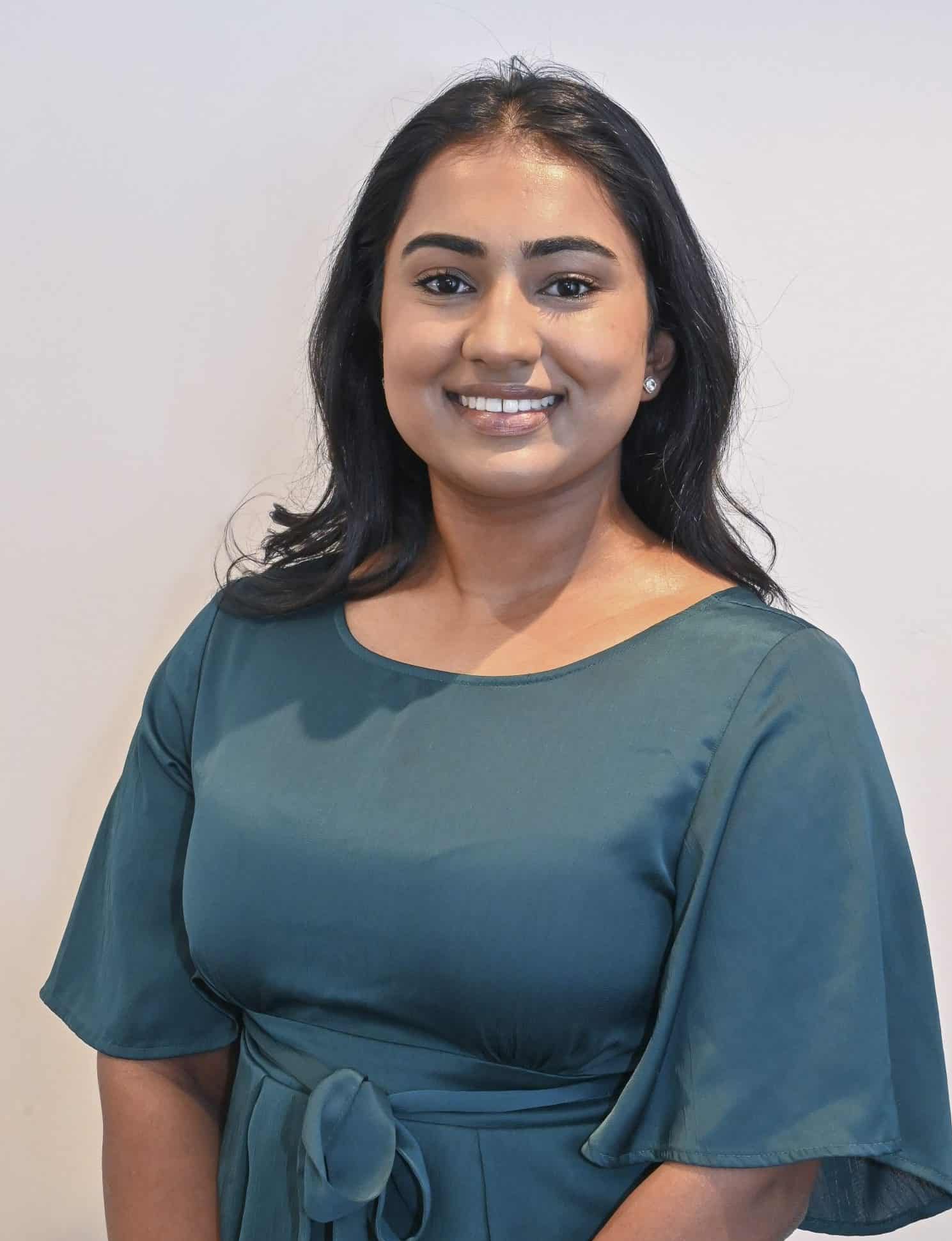 Ashviney "Ash" joined Graham Hill Eyecare shortly after graduation from the University of Melbourne's Doctor of Optometry programme in 2020.  Ash's vibrant, positive and caring attitude has made her a natural complement to the Graham Hill Eyecare team.  Ash specialises in the management of dry eye syndrome but enjoys looking after the eyesight needs of all members of the community.  We are fortunate that in addition to her native English, Ash is also fluent in Tamil.  Since arriving in Shepparton, Ash has immersed herself in the local community and is currently serving as the secretary for the GV young professionals network.  
our optical support & styling team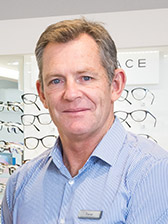 A valued member of our team, Trevor has been the Graham Hill Eyecare Optical Technician since 1985. Trevor is particularly skilled at lens edging, fitting, tinting, frame adjustments and repairs. Having Trevor as a full-time, on-site technician means we can deliver a fast turnaround time on spectacles and lenses. It also means that the majority of repairs can be done on-site and often on the same day.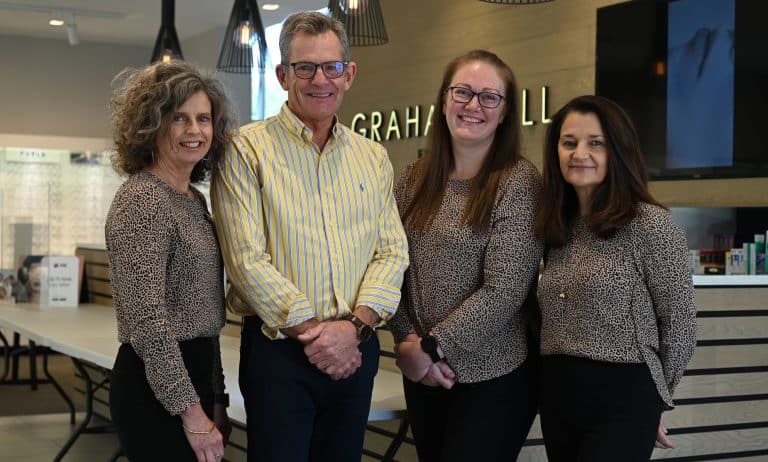 Valued members of the Graham Hill Eyecare family, our spectacle team consists of Jill Maude, Natise Vandenbroek and Margo Jenkins. Jill, Natise and Margo are experts when it comes to helping you choose a pair of glasses that will best suit your personal style as well as lifestyle, budget and vision requirements. They regularly consult with industry representatives to ensure they're up-to-date with the latest in fashion and technology of both frames and lenses and will help you pick a pair that fit comfortably and look great.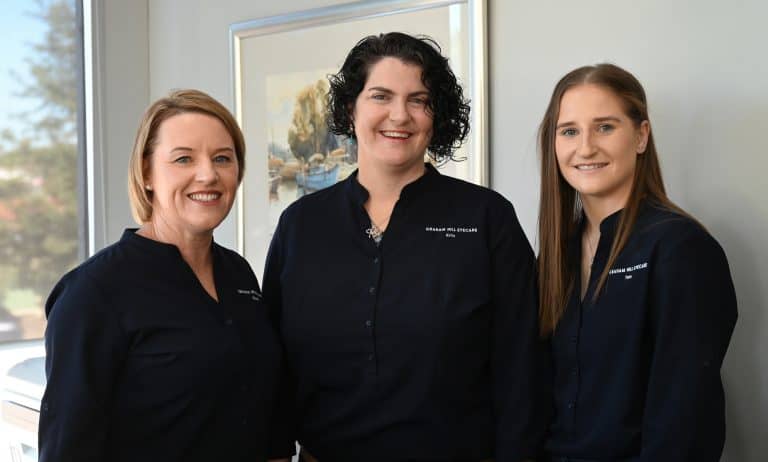 Ready to welcome you with a smile and ensure your bookings are handled efficiently, our professional reception team includes Cherie Keating, Erin McCarroll and Tara Ambrosini. Cherie, Erin and Tara keep our practice wheels turning. They ensure that convenient appointment times are locked in, all patient enquiries are answered and that our optometrists are kept organised.